Watch Latest Episode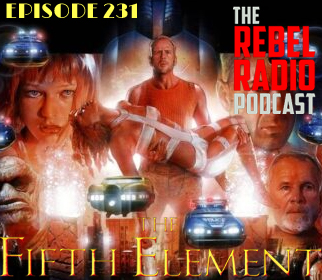 EPISODE 231: THE FIFTH ELEMENT
In the future, a supreme being will be put on Earth to save us from a great threat!  When that supreme being falls into the taxi of one Corben Dallas, the adventure awaits as he must help her survive aliens, corporate moguls, & her own willingness to save the human race in a sci-fi adventure like you have never seen before!  Bruce Willis & Milla Jovovich star in the Luc Besson directed The Fifth Element from 1997!
We also tell you what we watched or played this week in Download This, the weekly Top 5 features our favorite sci-fi babes, & we talk just a little news before previewing next week's film, The Mask Of Zorro!
Join our Patreon!
Visit us for all episodes, t-shirts, to make a donation & more at the www.therebelradiopodcast.com
Please leave us a 5-Star review on iTunes!
You can also find us on
Follow us on Facebook
Twitter @rebelradiopod, Mark @igatherspeed,  Long @evildrtran Matt @electric_monke