Watch Latest Episode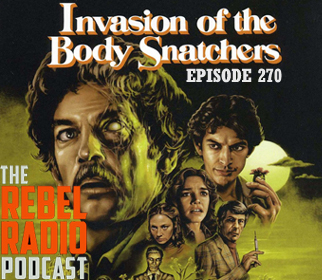 EPISODE 270: INVASION OF THE BODY SNATCHERS
When strange seeds drift to Earth and mysterious pods begin forming and invading San Fransisco.  A health inspector & his friends soon realize that something is not right as people begin to change to emotionless replicas of themselves planted by the pods!  The paranoia is real as they race to stop the beings from taking over the city & the world.  Donald Sutherland & Leonard Nimoy star in the 1978 sci-fi horror classic, Invasion of The Body Snatchers!
Our ghost stories continue for Halloween Horrors Month this week, as well as what we watched in Download This, the latest geek news, & a preview of next week's film, Hellraiser 2: Hellbound!
Visit us for all episodes, t-shirts, to make a donation & more at the www.therebelradiopodcast.com
Please leave us a 5-Star review on iTunes!
You can also find us on
Follow us on Facebook
Twitter @rebelradiopod