Watch Latest Episode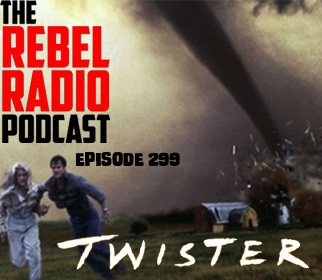 Bill & Jo Harding are advanced storm chasers on the brink of divorce but during an extremely active tornado weather system, they must join up once again to develop a high tech alert system to help warn people of these violent weather disasters.  They find themselves in the cross hairs of danger to see the technology work while making sure they & their team survive in this special effect extravaganza from 1996.  Bill Paxton, Helen Hunt, Cary Elwes, & Phillip Seymour-Hoffman star in Twister.
In the final Duel Of The Nerds, Matt & Long battle off with a story from each of them.  We also discuss what we watched in Download This, talk the latest geek news, and we get ready for episode 300 next week when we talk Return Of The Jedi!
Visit us for all episodes & more at the www.therebelradiopodcast.com
Please leave us a 5-Star review on iTunes!
You can also find us on
Follow us on Facebook
Twitter @rebelradiopod