Watch Latest Episode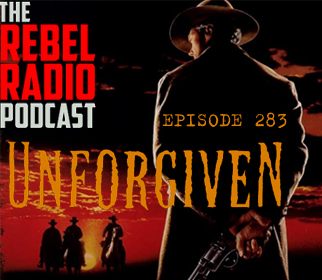 Former gunslinger William Munny is living a peaceful life raising his children after the death of his wife but also struggling to stay ahead. When a couple of cowboys cut up a woman, Munny gets word of the reward from a young kid and he decides to take on this one last job when with his partner Ned. As events unfold he finds himself returning to the old ways in a showdown with the cruel Sheriff Little Bill that turns the job from money into vengeance! Clint Eastwood, Morgan Freeman, and Gene Hackman star in this Best Picture winning classic, Unforgiven!
In this weeks Duel Of The Nerds, Mark & Long face off against each other as it's Optimus Prime vs Godzilla! Who will win this duel?  In Download This we talk The Book Of Boba Fett and we also give you all the latest news plus a preview of next week's film, The Hunt For Red October!
Visit us for all episodes & more visit the www.therebelradiopodcast.com
Please leave us a 5-Star review on iTunes!
You can also find us on
Follow us on Facebook
Twitter @rebelradiopod