Watch Latest Episode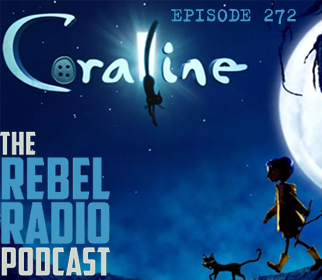 Halloween Horrors Month concludes as a young girl is neglected by her parents as they move into a new home.  What she discovers at this new place is more than she could have imagined as a doorway in the house leads her to a parallel world in which evil versions of her parents exist!  It's up to her to stop them from keeping her in the opposite world and returning to her own world which she realizes isn't all that bad after all!  WE look at this wonderful stop motion animated film Laika Studios titled Coraline.
We discuss what we watched this week in Download This including our reviews of No Time To Die & Dune.  We bring you our final ghost stories of the month and all the latest geek culture news.  We then preview our ext film, the hilarious Beavis & Butthead Do America!
Visit us for all episodes, t-shirts, to make a donation & more at the www.therebelradiopodcast.com
Please leave us a 5-Star review on iTunes!
You can also find us on
Follow us on Facebook
Twitter @rebelradiopod