Watch Latest Episode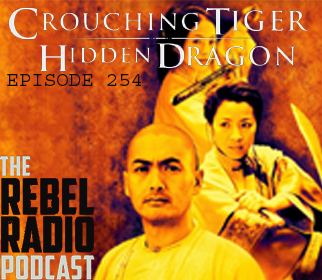 EPISODE 254: CROUCHING TIGER, HIDDEN DRAGON
When Li Mu Bai is ready to settle down for a life of peace after years of fighting, he entrust his sword, the Green Destiny, in the hands of a faithful friend.  When the sword goes missing it will lead to an adventure in which Li will come to face to face with his Master's killer Jade Fox, as well as a young aristocrat's daughter who is more than she seems.  It's a fantasy adventure unlike ever seen before in Ang Lee's Oscar winning film, Crouching Tiger, Hidden Dragon!
In this week's Top 5 we talk our favorite sword fights on film, we talk the latest news in the pop culture world, and tell you what we have watched lately in Download This.  We also preview next week's film, Independence Day.
Visit us for all episodes, t-shirts, to make a donation & more at the www.therebelradiopodcast.com
Please leave us a 5-Star review on iTunes!
You can also find us on
Follow us on Facebook
Twitter @rebelradiopod