Watch Latest Episode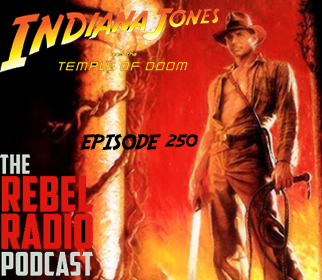 EPISODE 250: INDIANA JONES & THE TEMPLE OF DOOM
When it comes to adventure there could be only one name that would do us good to celebrate 250 episodes & that's Indiana Jones! Indiana Jones is back in this prequel to Raiders Of The Lost Ark in which he is joined by his friend Short Round and singer Willie Scott.  Indy is asked to find the missing mystical stones in a village in India but he soon discovers a cult that has kidnapped all the children and forced them into slavery!  Indy soon takes on Mola Ram and his Thugee Cult to save the children, return the stones & save the day in Indiana Jones & The Temple Of Doom!
In our Top 5 we discuss our favorite episodes of our show so far that has led us through 7 years & 250 episodes!  We take a look at the latest news in pop culture, we discuss what we watched this week in Download This, & we preview next week's film, Sin City!
Visit us for all episodes, t-shirts, to make a donation & more at the www.therebelradiopodcast.com
Please leave us a 5-Star review on iTunes!
You can also find us on
Follow us on Facebook
Twitter @rebelradiopod