Watch Latest Episode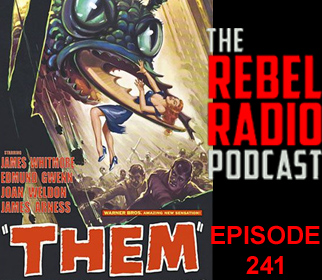 Two police officers find a mysterious girl who only repeats one word. Them!  The mystery that unfolds is out of this world as they discover that mutated ants have arrived and are attempting to destroy everything in their path! Can they be stopped?! Find out as we discuss the 1954 creature classic, Them!
In this week's Top 5 we discuss our greatest creature fears, we talk The Falcon & Winter Solider in Download This, discuss the latest news and get ready for Crimes & Mobsters Month in April as we kick it off with Heat!
Visit us for all episodes, t-shirts, to make a donation & more at the www.therebelradiopodcast.com
Please leave us a 5-Star review on iTunes!
You can also find us on
Follow us on Facebook
Twitter @rebelradiopod, Mark @igatherspeed,  Long @evildrtran Matt @electric_monke