Watch Latest Episode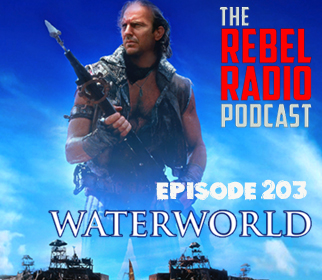 In the far future the world has been covered in water & the survivors people on makeshift floating cities.  They fight to stay alive with the hope that one day they will discover the mythical place known as dry land.  The Mariner is a drifter who searches the waters for his own truths & makes his own legends in doing so.  When he takes on a  young girl & a woman he gets into a fight for survival against Deacon & his band of Smokers.  It becomes a battle for survival & answers to the truth if dry land exits in the ambitious Kevin Costner starring 1995 epic, Waterworld.
In Download This we talk what we have been watching or playing lately plus we tackle the latest news including Michael Keaton possibly returning as Batman & The Boys are finally returning for season 2!  We have some fun with The Weekly Top 5 talking our favorite celebrity crushes & then preview next week's film, the Civil War epic, Glory!
Join our Patreon!
Listen To Us  Wednesday at 2 pm central on Ironiq Radio.  Tune in and check it out!
Visit us for all episodes, t-shirts, to make a donation & more at the www.therebelradiopodcast.com
Please leave us a 5-Star review on iTunes!
You can also find us on
Follow us