Watch Latest Episode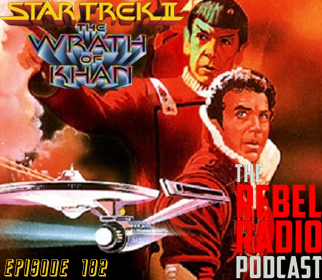 EPISODE 182: STAR TREK II: THE WRATH OF KHAN
Captain James T. Kirk of the starship Enterprise finds himself in a cat & mouse game of wits & war against an old nemesis called Khan!  When Khan and his soldiers commandeer the starship Reliant along with a terraforming device known as Genesis, the fight begins to stop the mad man and save the final frontier in what is arguably one of the best sci-fi films ever made as we talk Star Trek II: The Wrath Of Khan!
We also celebrate Long's birthday & discuss what we have watched lately in Download This in which Jay & Silent Bob Reboot gets a lot of love from Mark.  We talk the Star Wars The Clone Wars trailer in the news along with the delays on the Obi-Wan television series & more!  We then preview next week's film as we get ready to switch places & discuss the John Woo action film, Face/Off.
Join our Patreon!
Listen To Us  Wednesday at 2 pm central on Ironiq Radio.  Tune in and check it out!
Visit us for all episodes, t-shirts, to make a donation & more at the www.therebelradiopodcast.com
Please leave us a 5-Star review on iTunes!
You can also find us on
Follow us 
Twitter @rebelradiopod, Mark @igatherspeed,  Long @evildrtran Matt @electric_monkee