Watch Latest Episode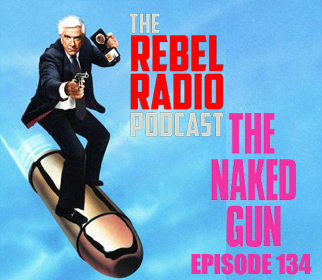 THE REBEL RADIO PODCAST EPISODE 134: THE NAKED GUN
Lt. Frank Drebin is the man for the job as he works to stop an assassination on Queen Elizabeth at a baseball game in this comedy classic.  Drebin's means aren't always conventional but he gets the job done anyway he can as he chases down the evil Vincent Ludwig as he attempts to use mind control to do dastardly deeds!  It's comedy gold in this all time classic full of hi-jinks, laughs, & some of the best comedy gags ever put on screen as we discuss The Naked Gun: From The Files Of Police Squad!
Also on the show Mark talks A Star Is Born in Download This, plus Jaws is coming to the new Motion Picture Museum, Robocop is the new Colonel Sanders, & Star Trek maybe returning in animated form!  All this & a preview of our next feature film, the epic 1995 Best Picture winner, Braveheart.
Listen To Us  Wednesday at 2 pm central on Ironiq Radio.  Tune in and check it out!
Visit us for all episodes, t-shirts, to make a donation & more at the www.therebelradiopodcast.com
Please leave us a 5-Star review on iTunes!
You can also find us on
Still part of The Tangent Bound Network! Be patient as the site is under construction!
Follow us 
Twitter @rebelradiopod, Mark @igatherspeed,  Long @evildrtran Matt @electric_monkee
YouTube  - For fun videos, Comics With  Arnold & more!