Watch Latest Episode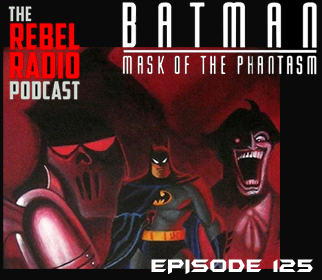 THE REBEL RADIO PODCAST EPISODE 125: BATMAN: MASK OF THE PHANTASM
Merry Christmas everyone & our gift to you all is our final episode of 2018!  On Christmas Day in 1993 Batman came to cinemas like he was never seen before in the animated tale, Batman: Mask Of The Phantasm!  We take a look back at this animated classic spinning off from the mega popular Batman: The Animated Series.  A series of gruesome murders in Gotham City all point to the Batman, but the Dark Knight knows there is more to this mystery than the police believe!  Mask Of The Phantasm explores a darker side to the Batman mythologies, a different side of the origins, and the emotions of doing the right thing fighting crime!  It's an instant classic that is 25 years old today!
We also discuss the new Aquaman film and friend of the show the Evil Dr. Tran has sent us a review for you to hear during the show, we also talk the Hellboy reboot trailer, discuss our favorite films this year that we have seen, and look forward to 2019 with a brief preview of the year!  We are kicking off 2019 with the unappreciated sequel, Mission Impossible 2!  See you in the New Year!
Listen To Us  Wednesday at 2 pm central on Ironiq Radio.  Tune in and check it out!
Visit us for all episodes, t-shirts, to make a donation & more at the www.therebelradiopodcast.com
Please leave us a 5-Star review on iTunes!
You can also find us on
Still part of The Tangent Bound Network! Be patient as the site is under construction!
Follow us 
Twitter @rebelradiopod, Mark @igatherspeed, & Matt @electric_monkee
YouTube  - For fun videos, Comics With  Arnold & more!