Watch Latest Episode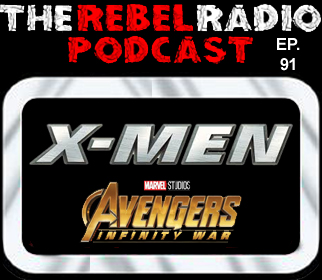 THE REBEL RADIO PODCAST EPISODE 91: X-MEN & AVENGERS: INFINITY WAR
We begin the show with 2000's X-Men as our featured movie of the week!  We talk why we think the X-Men started the modern super hero movie craze and where it stands in the history of comic book films.  We also talk the new Venom trailer and tell you what we have been watching or streaming in Download This.
 But we know what you really want to hear about this week and Avengers: Infinity War has finally arrived in theaters after 10 years and 18 films of build up in the Marvel Cinematic Universe, it has arrived! Is it everything we were hoping for?  Was it more?  Where does it stand amongst the MCU movies?  We tell you our first reactions and go into some major spoiler territory!  We also tell you where we feel it falls in the MCU rank of films.

Before we go we also preview our next film we will cover, 1966's Django!  The original western classic!
Don't forget we will be at Comicpalooza 2018 as part of the Podcast Partnership Program!
Visit our brand new home at www.therebelradiopodcast.com
Please leave us a 5-Star review on iTunes!
We are now on Spotify!
You can also find us on iHeartRadio Google Play!
Still part of The Tangent Bound Network! Be patient as the site is under construction!
Please visit our original home at www.trustmeimajedi.com where you will find the latest news and special features.
Follow us on Facebook and Twitter @rebelradiopod, Mark @igatherspeed, Frank @FrankTBiscuit, & Matt @electric_monkee