Watch Latest Episode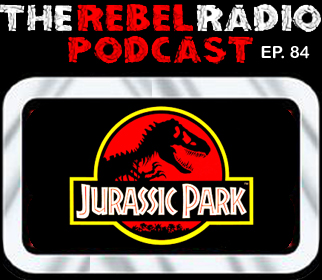 THE REBEL RADIO PODCAST EPISODE 84: JURASSIC PARK
In this new episode we talk dinosaurs and the classic Steven Speilberg flick Jurassic Park!  Before we get to Velociraptors and T-Rex's we talk Black Panther, the new comic book movie that has taken the world by storm.  We stay fairly spoiler free as we discuss Marvel Studio's newest flick and we tell you what we think about it.  Here's a hint.....it's really really good!  We then talk Jurassic Park and why it's still a fun movie today and the pop culture appeal of a kick ass dinosaur flick that is still getting sequels made today!  This is Speilberg at his best with one of his biggest films of all time!  Enjoy the tour of Jurassic Park!
We then talk the upcoming Cobra Kai series that is coming to You Tube and will we be sweeping the leg with this sequel series to The Karate Kid or not!  We tell you what we are watching in Download This and answer our first voice mail question sent to us! We then preview our next film Point Break!  The 1991 film not that crappy remake!  All this and more on this episode!
Please leave us a 5-Star review on iTunes!
You can now find us on iHeartRadio!
We are now on Google Play!
Please visit our home at www.trustmeimajedi.com where you will find the latest news and special features.
Follow us on Facebook and Twitter @rebelradiopod, Mark @igatherspeed, Frank @FrankTBiscuit, & Matt @electric_monkee