Watch Latest Episode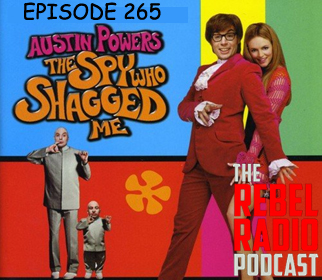 EPISODE 265: AUSTIN POWERS: THE SPY WHO SHAGGED ME
Austin Powers is back in this sequel that finds Austin without his mojo!  When Dr. Evil hatches a plan to put a laser on the moon and hold the planet for ransom, he steals Austin's mojo to prevent the one man who can stop him, from stopping him!  But Austin travels through time and with the help of US Agent Felicity Shagwell, they team up to stop Dr. Evil & his henchman, Fat Bastard! It's Matt's birthday movie pick this week as we discuss Austin Powers: The Spy Who Shagged Me!
In the Top we talk the best scenes in Austin Powers movies as well as some fun with characters that Matt would want to be in movies! We talk the latest news including that trailer for The Matrix Resurrections & let you know what we watched this week in Download This.  Plus a preview of next week's film, Speed!
Visit us for all episodes, t-shirts, to make a donation & more at the www.therebelradiopodcast.com
Please leave us a 5-Star review on iTunes!
You can also find us on
Follow us on Facebook
Twitter @rebelradiopod