Watch Latest Episode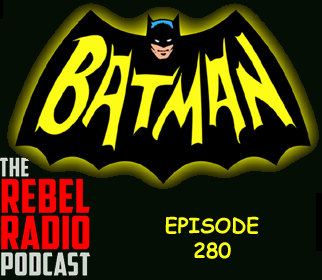 EPISODE 280: BATMAN THE MOVIE
Golly, the Dynamic Duo are faced with their greatest challenge yet!  Their rogues gallery, the Joker, Penguin, Catwoman, & Riddler have teamed up with a master plan to take out the world's leaders and in the process defeating Batman & Robin once and for all!  Adam West & Burt Ward star in the film based on the popular television show from the 1960's in our annual Christmas Bat-film!  Holy shenanigans listeners as we discuss Batman The Movie!
We also discuss The Matrix Resurrections in Download This, we look back at the year that was 2021 and look forward to 2022!  We will be taking a couple of weeks off from the show but we do preview our next film when we return, the 2017 super hero flick, Logan!
Visit us for all episodes, t-shirts, to make a donation & more at the www.therebelradiopodcast.com
Please leave us a 5-Star review on iTunes!
You can also find us on
Follow us on Facebook
Twitter @rebelradiopod