Watch Latest Episode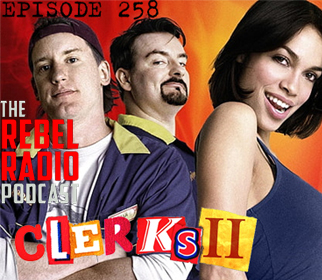 Get reunited with Dante, Randall, Jay & Silent Bob as they face life in their 30's in a new job away from the convenient store. As they face new trial and tribulations including Dante on his way to a marriage that isn't right for him, Randal coming to terms that his best friend is moving away, & then there's Becky who sees through all their bulls&*% to set things right.  We look back on at Kevin Smith's sequel to his indie classic as it celebrates it's 15th Anniversary & discuss Clerks II.
In The Top we talk our favorite View Askew characters, we also have returned from Comicpalooza 2021 & discuss the show plus the latest geek news & what we watched this week in Download This.  We also preview next week's film, Innerspace!
Visit us for all episodes, t-shirts, to make a donation & more at the www.therebelradiopodcast.com
Please leave us a 5-Star review on iTunes!
You can also find us on
Follow us on Facebook
Twitter @rebelradiopod