Watch Latest Episode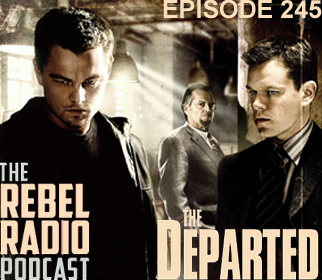 EPISODE 245: THE DEPARTED
An undercover cop infiltrates an Irish gang in South Boston, all the while discovering there's a mole in the state police department that he works for.  As they each work to identify each other plus balance their double lives, it all comes to a gripping conclusion in this Best Picture winner from director Martin Scorsese.  Leonardo DiCaprio, Matt Damon, Jack Nicholson, Mark Wahlberg,  Martin Sheen star in this classic from 2006, The Departed!
In this week's Top 5 we look at our favorite remakes, we then discuss the final episodes of The Falcon & The Winter Soldier in Download This, & lots Marvel Studios stuff int he news.  We then preview next week's film, Tron Legacy!
Visit us for all episodes, t-shirts, to make a donation & more at the www.therebelradiopodcast.com
Please leave us a 5-Star review on iTunes!
You can also find us on
Follow us on Facebook
Twitter @rebelradiopod, Mark @igatherspeed,  Long @evildrtran Matt @electric_monke