Watch Latest Episode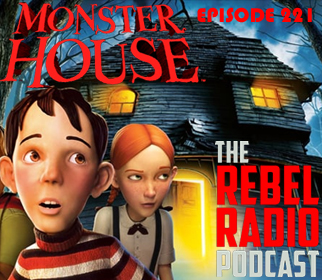 EPISODE 221: MONSTER HOUSE
Happy Halloween!  We bring you the final Halloween Horrors movie a couple of days early as we discuss a kid friendly horror movie!  DJ & Chowder get more than they bargained for when they cross paths with a haunted possessed house in the neighborhood! What they discover is that the house is actually a living, breathing monster in the Sony animated film, Monster House.
The Mandalorian Season 2 has begun & so does our weekly episode recaps as we take a look at the premiere episode titled "The Marshall."  We talk our favorite Halloween candy in this wee's Weekly Top 5, discuss sme news, & preview next week's feature film, Back To The Future!
Join our Patreon!
Visit us for all episodes, t-shirts, to make a donation & more at the www.therebelradiopodcast.com
Please leave us a 5-Star review on iTunes!
You can also find us on
Follow us on Facebook
Twitter @rebelradiopod, Mark @igatherspeed,  Long @evildrtran Matt @electric_monke