Watch Latest Episode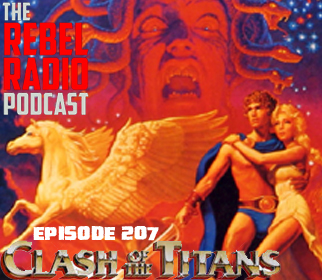 EPISODE 207: CLASH OF THE TITANS
Perseus has fallen in love with Princess Andromeda and has beaten the vile Calibos to be her suitor!  But in order to truly be free, he must find a way to defeat the evil Kraken who will destroy the city because of the wrath of the Gods!  He must defeat the evil Medusa to get the only weapon known to defeat the Kraken.....her head! It's an epic battle of good vs evil with master special effects by the great Ray Harryhausen in the 1981 classic, Clash Of The Titans!
We also discuss more film release date changes, the The Walking Dead season 10, and int he Weekly Top 5 we tell you our fantasy Comic- Con wishes if we could be there!  We then preview next week's film, The Good The Bad & The Ugly!
Join our Patreon!
Listen To Us  Wednesday at 2 pm central on Ironiq Radio.  Tune in and check it out!
Visit us for all episodes, t-shirts, to make a donation & more at the www.therebelradiopodcast.com
Please leave us a 5-Star review on iTunes!
You can also find us on
Follow us 
Twitter @rebelradiopod, Mark @igatherspeed,  Long @evildrtran Matt @electric_monkee