Watch Latest Episode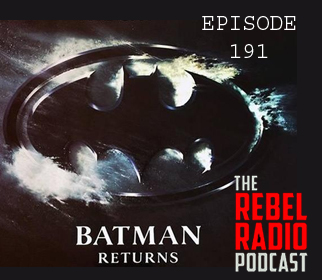 EPISODE 191: BATMAN RETURNS
The Sequels That Made Us Month kicks off as we go back to 1992 to discuss the weird, bizarre sequel to the smash hit Batman.  The Penguin has emerged from the sewers of Gotham City as he teams with business mogul Max Shrek & the Catwoman to take down the Caped Crusader & spread their corruption throughout Gotham City once & for all!  Michael Keaton stars with Danny Devito, Michelle Pfeiffer, & Christopher Walken in Tim Burton's Batman Returns.
COVID-19 continues to sweep across the world as we discuss it's continued impact in the news but have no fear their is good news this week as we discuss The Mandalorian Season 2, Doctor Strange 2 filming & more!  We then preview next week's episode as we go back to a mysterious world in Beneath The Planet Of The Apes!
Join our Patreon!
Listen To Us  Wednesday at 2 pm central on Ironiq Radio.  Tune in and check it out!
Visit us for all episodes, t-shirts, to make a donation & more at the www.therebelradiopodcast.com
Please leave us a 5-Star review on iTunes!
You can also find us on
Follow us 
Twitter @rebelradiopod, Mark @igatherspeed,  Long @evildrtran Matt @electric_monkee