Watch Latest Episode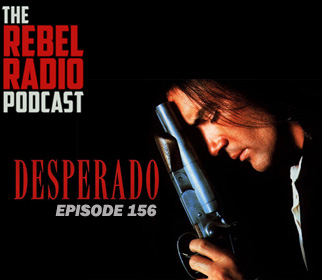 The legend tells of an El Mariachi who is seeking his vengeance for the death of the of the woman he loved. When a stranger comes into town with a guitar case, a blood bath ensues as the Mariachi seeks answers to find his vengeance!  Robert Rodriguez directs Antonio Banderas, Selma Hayek, Danny Trejo, & a cast of stars in this modern action classic!  We discuss 1995's Desperado on this week's episode full of blood, guns, and busted balls!
Plus in Download This we tell you what we have watched or consumed into our brains lately, news on the passing of Rutger Hauer, Stallone wants to make more Rocky stuff, will we get those Mad Max sequels?  All this plus a preview of next week's episode, 80's favorite, The Neverending Story!
Listen To Us  Wednesday at 2 pm central on Ironiq Radio.  Tune in and check it out!
Visit us for all episodes, t-shirts, to make a donation & more at the www.therebelradiopodcast.com
Please leave us a 5-Star review on iTunes!
You can also find us on
Still part of The Tangent Bound Network! Be patient as the site is under construction!
Follow us 
Twitter @rebelradiopod, Mark @igatherspeed,  Long @evildrtran Matt @electric_monkee
YouTube  - For fun videos, Comics With  Arnold & more