Watch Latest Episode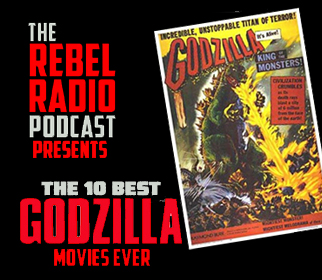 Special Episode: The 10 Best Godzilla Movies Ever
The king has returned to theaters this weekend & our resident Godzilla king has returned with the second of his two part special featuring the king of the monsters! This time LT Prime goes all in and brings you what he thinks is the 10 best Godzilla movies ever made!  It's a clash of epic tales as he counts down to number 1!  Who will it be?  Listen & find out in this special episode presented by The Rebel Radio Podcast!
Visit us for all episodes, t-shirts, to make a donation & more at the www.therebelradiopodcast.com
Please leave us a 5-Star review on iTunes!
You can also find us on
Still part of The Tangent Bound Network! Be patient as the site is under construction!
Follow us 
Twitter @rebelradiopod, Mark @igatherspeed,  Long @evildrtran Matt @electric_monkee
YouTube  - For fun videos, Comics With  Arnold & more