Watch Latest Episode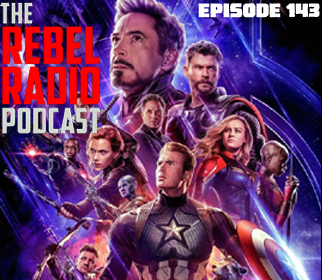 EPISODE 143 - AVENGERS: ENDGAME
We are in the endgame now!  One of the most anticipated films of all time arrived in theaters this weekend after a build up that began in 2008 and 22 films later we have watched the Marvel Cinematic Universe unfold and now come full circle with the release of Avengers: Endgame.  We go in depth discussing the accumulation of the Infinity Saga as the Avengers look for a way to reverse what Thanos did after the events of Avengers: Infinity War. We break the film down and talk the journey of the heroes in this finale of the current chapter of the MCU.  There are spoilers abound but we give you fair warning when they begin so no worries there if you have not seen the film yet!
We also look at the legacy of the MCU, where it goes from here, and talk about our 5 favorite moments from the first chapter of the Marvel Cinematic Universe!  Plus we tell you what we have watched in Download This, discuss the latest news, continue to prepare for Comicpalooza, and preview next week's film, 1994's The Crow.  Thanks for listening!
Listen To Us  Wednesday at 2 pm central on Ironiq Radio.  Tune in and check it out!
Visit us for all episodes, t-shirts, to make a donation & more at the www.therebelradiopodcast.com
Please leave us a 5-Star review on iTunes!
You can also find us on
Still part of The Tangent Bound Network! Be patient as the site is under construction!
Follow us 
Twitter @rebelradiopod, Mark @igatherspeed,  Long @evildrtran Matt @electric_monkee
YouTube  - For fun videos, Comics With  Arnold & more