Watch Latest Episode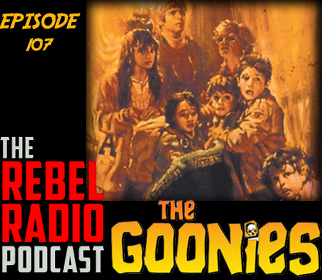 THE REBEL RADIO PODCAST EPISODE 107: THE GOONIES
Hey you guys!  It's an adventure with bank robbers, pirate legends, gold, and booby traps as we look back at Richard Donner & Steven Speilberg's The Goonies!  This beloved classic is still finding audiences today and we discuss what makes it endure, how it holds up today, and our memories of The Goonies!  Goonies never say die and neither do we as we remember a childhood favorite!
We also talk the latest news such as Black Panther's Oscar chances, take a look back at some Saturday morning cartoon favorites of ours, tell you what we have watched this past week in Download This, and preview our next film, Monthy Python & The Holy Grail!
Each new episode will now be streamed every Wednesday at 2 pm central on Ironiq Radio.  Tune in and check it out!
Visit us for all episodes, t-shirts, to make a donation & more at the www.therebelradiopodcast.com
Please leave us a 5-Star review on iTunes!
You can also find us on
Still part of The Tangent Bound Network! Be patient as the site is under construction!
Please visit our original home at www.trustmeimajedi.com where you will find the latest news and special features.
Follow us on Facebook and Twitter @rebelradiopod, Mark @igatherspeed, Frank @FrankTBiscuit, & Matt @electric_monkee