Watch Latest Episode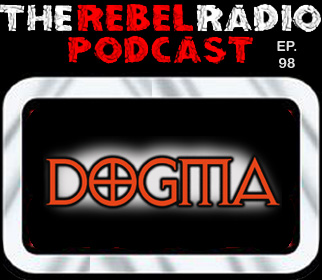 THE REBEL RADIO PODCAST EPISODE 98: DOGMA
The countdown to 100 is on and in this episode we follow two angels who have been outcast from Heaven but find a loop hole to get back in!  But wait, if they do this then they will destory all of existence!  It's up to the last Scion and two unlikely prophets named Jay & Silent Bob to stop them!  We revisit Kevin Smiths' controversial 1999 film Dogma with an all star cat including that Alen Rickman dude!
We also bring you all the latest news on the Teenage Mutant Ninja Turtles reboot, the title to the Spider-Man: Homecoming sequel, and tell you what we have been watching in Download This.  We then preview our next movie we will cover, 1988's action classic Die Hard!
Want to get involved in episode 100?  LEave us a voice mail at 281-815-0582 & we will play it on air!  If you ahve recording equipment send us something cool at therebelradiopodcast@yahoo.com
Visit our brand new home at www.therebelradiopodcast.com
Please leave us a 5-Star review on iTunes!
You can also find us on
Still part of The Tangent Bound Network! Be patient as the site is under construction!
Please visit our original home at www.trustmeimajedi.com where you will find the latest news and special features.
Follow us on Facebook and Twitter @rebelradiopod, Mark @igatherspeed, Frank @FrankTBiscuit, & Matt @electric_monkee